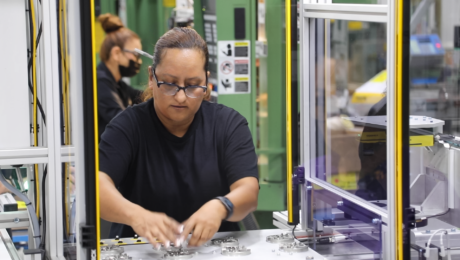 At Chemtech Plastics, we understand the importance of individuals and the role each and every part , or person, works together to accomplish remarkable feats.
Chemtech values the contributions of each of our employees. Together, we revolutionize automotive and medical industries with invaluable parts, ultimately contributing to life-saving advancements. Behind this success lies a powerful force – women in manufacturing. In this blog, we will explore how women's innate empathy, remarkable capacity for effective communication, along with their attention to detail are changing the game in manufacturing at Chemtech Plastics. 
The Evolution of Women in Manufacturing
For decades, women faced numerous challenges entering the manufacturing sector, and as a result the manufacturing sector has faced challenges due to the lack of women's diverse perspectives. Today, women are increasingly proving their mettle and making significant strides in reshaping the industry.
Breaking Stereotypes in Plastic Injection Molding
Women in manufacturing, especially at Chemtech Plastics, are consistently defying stereotypes. Their passion for engineering and technology, combined with empathy and attention to detail, have been game-changers. Their diverse perspectives have brought innovation and fresh insights to streamline manufacturing processes. 
Game-Changing Contributions
Women's unique skill set and approach to problem-solving have led to transformative contributions at Chemtech Plastics. Their emphasis on attention to detail has resulted in parts that exceed industry standards. Their empathy-driven designs have led to components that prioritize safety, saving lives on the roads.
Cultivating an Inclusive Workplace Culture
Chemtech Plastics fosters an inclusive work environment that embraces and celebrates diversity. Mentorship programs, leadership development initiatives, and a commitment to gender equality have empowered women to thrive in their roles. This inclusive culture has resulted in an atmosphere where all employees feel valued, appreciated, and heard.
Chemtech Plastics is actively involved in inspiring the next generation of women in manufacturing. We encourage young girls to pursue careers in science, technology, and engineering fields. As Chemtech continues to grow we hope to hire many more passionate men and women to join our diverse team. 
Let's Mold the Future Together. 
The contributions of women in manufacturing, particularly at Chemtech Plastics, are invaluable. Their empathy and attention to detail are changing the face of the automotive industry, ensuring that every part produced prioritizes safety and quality. As the company continues to lead in innovation, it is clear that empowering women in manufacturing yields positive results that benefit not only the plastic injection molding industry but also automotive and medical industries we service. By fostering an inclusive environment and inspiring the next generation, Chemtech Plastics paves the way for a future where women's transformative role in automotive manufacturing is universally celebrated and recognized. 
Interested in joining the team? 
Apply today: https://www.chemtechplastics.com/careers/