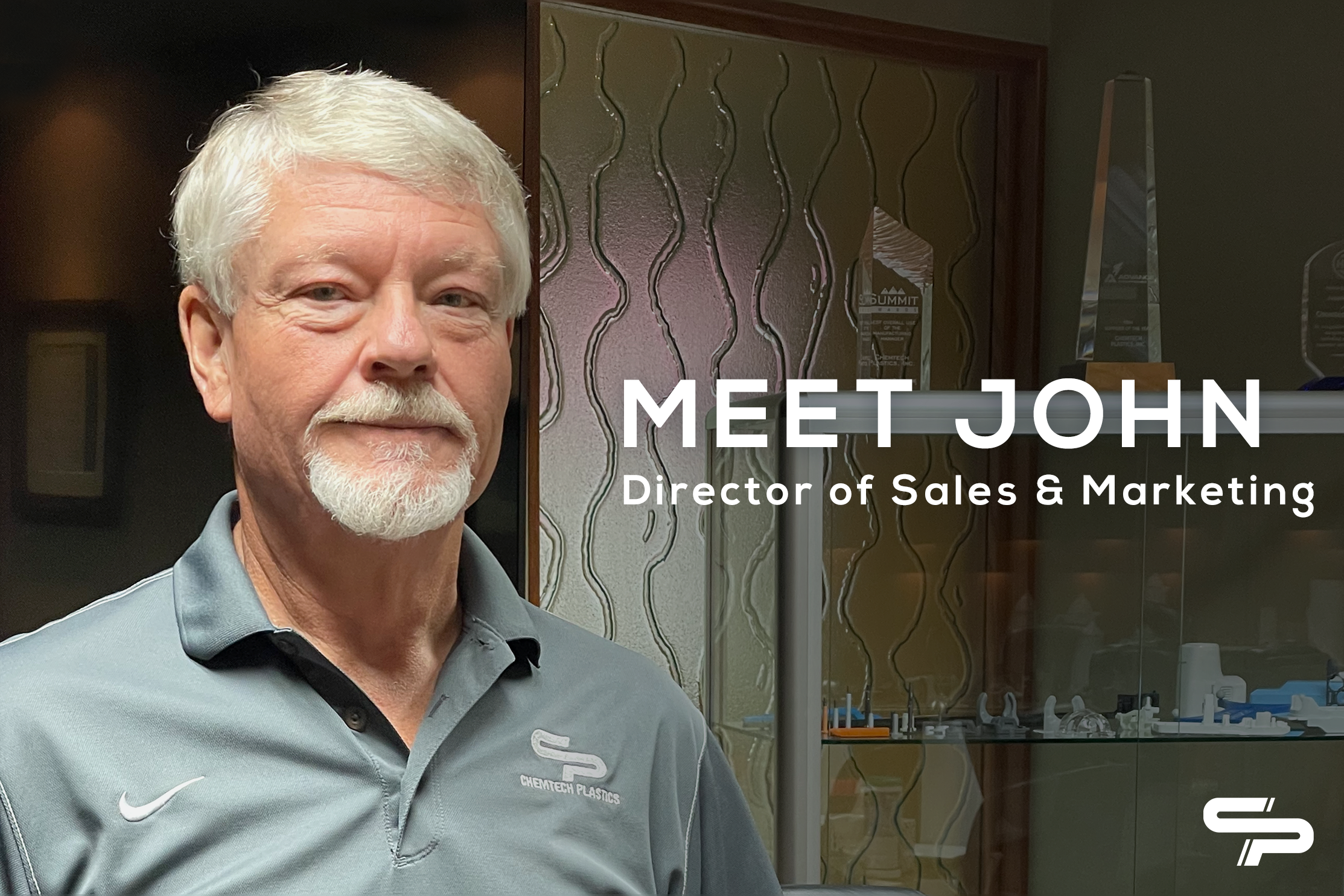 Making up the pillars of Chemtech Plastics' core leadership team are a few key individuals who have played an instrumental part in the company's continued success. You've already met Founder and CEO Ragnar Korthase. Now, it's time to meet John Linder, Director of Sales and Marketing—and the visionary behind the parts Chemtech produces.
Over 40 years of experience
Linder began as a journeyman moldmaker in the plastic injection molding field. As his knowledge and skills grew, so did his career. In 1979, Linder became a shop owner at just 25 years old, but in 1985 was when he really "got off the bench," marking his move into management. Around this time, Linder switched from toolmaking to injection molding at a company that performed both functions (much like Chemtech).
Until 2016, his career focus was primarily technical, reflected in his positions. Linder was Director of Engineering at Chemtech from 2000-2013. Naturally gifted in technical pursuits, he found himself drawn to this side of the industry.
"Everything made sense. I had the skills and learned very quickly, which made it very enjoyable," said Linder. "Experiencing both toolmaking and moldmaking has been rewarding, challenging, and interesting."
From technical to front-end
For many years, Lindner worked within this highly specialized niche in the injection molding industry, making highly complex automotive electrical connectors, junctions, and relay boxes. "I've always been interested in and focused on technically demanding parts and products," said Linder. "At Chemtech, that's our niche. We seek technically challenging projects other companies can't or won't do."
Moving to Director of Sales and Marketing was a natural transition for him. The transition supports Linder's remarkable ability to brainstorm and envision the perfect way to craft each new part that crosses his desk. Getting involved with the upfront initial scope planning is crucial in this role.
As he explains, clients approach Chemtech for plastic solutions. Mold modeling for client requests is a highly technical process, with many moving parts and client involvement. We create a mold to produce applicable plastic solutions, but there's a significant amount of front-end work in creating a successful product launch.
Specializing in saving lives
Within the plastic injection molding field, Chemtech makes parts for several different industries, including automotive, medical, and electromechanical components. Throughout his career, Linder's specialties have been automotive and medical components. Because of their human impact, he finds it most rewarding to work on medical components, such as those used in modern surgical devices.
Shifting gears
As Director of Sales, Linder felt the shift when the COVID-19 pandemic hit. Chemtech had to pivot from good old-fashioned knocking on doors as a relationship-building model—what was previously their most successful approach was no longer an option. "Trying to relearn something that you've done for decades is a change and a challenge," he said. "You have to remain fluid and willing to evolve."
"Chemtech does it right."
Where others have failed to step to the plate, Chemtech has been there. "Over the years, as other companies lost business, we grew," said Linder. "People came to us because they know we do it right. They knew we could help them make their products when others couldn't."
Another thing Linder appreciates about Chemtech is the collective management style of Ragnar and President Derek Popp. There's no hand-holding, he said, because "when you have a position here, you have the authority and responsibility not to let the team down." Linder said, "We strive to attract talented people that help create a culture and environment that is dynamic yet enjoyable to work within."
To our clients, what puts Chemtech a step above the rest is that every part we make has a story. Most injection molders go into their sample case, and a part is just a part with little more to it than a name. In contrast, "I can get you excited by 20 parts," said Linder. "With each one, you'll go, 'Wow!' when you realize everything that goes into each component. Not everyone can do that."
Ready to start a new project? Interested in a career at Chemtech? We want to hear from you.